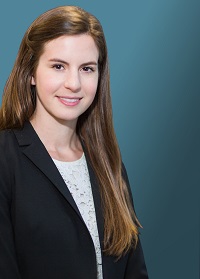 ELIZABETH BALDRIDGE


<!font color=#01bde4><!/font>
Associate
Elizabeth Baldridge represents all types of businesses in a broad variety of matters, with a focus on media, internet, entertainment, and related industries. Elizabeth has represented clients in federal and state trial courts, appellate courts, and in mediation.

Prior to joining Jassy Vick Carolan, Elizabeth was an associate at a large private law firm where she counseled clients in intellectual property and complex commercial litigation matters, including actions for copyright and trademark infringement, idea submission disputes, and misappropriation of trade secrets.

NOTABLE REPRESENTATIONS

Second Generation, Inc. v. Kody Branch of California, Inc. et al. (Los Angeles County Superior Court 2017). Represented textile manufacturer in garment design copyright action, successfully bringing motions for writs of attachment against defendants.

Ali v. C T Corporation System, et al. (Los Angeles County Superior Court 2017). Successfully briefed and argued demurrer, which was sustained without leave to amend, in contractual dispute.

Southern California Edison Company v. PAR Electrical Contractors, Inc. (C.D. Cal. 2018). Drafted indemnity-based complaint on behalf of major public utility, which resulted in favorable settlement at the outset of the litigation.

United States v. Al-Nashiri (United States Court of Military Commission Review 2018). Represented government-appointed attorneys of Guantanamo Bay detainee in professional responsibility dispute.

Amgen, Inc. v. Coherus Biosciences, Inc. (Ventura County Superior Court 2017). Assisted in discovery phase of complex trade secret matter.

Westfield Hydraulics, Inc. v. Umbarger et al. (Los Angeles Superior Court 2018). Represented aerospace engineering company in trade secret dispute involving bidding for government defense contracts.

CLERKSHIP

Law Clerk to Hon. Otis D. Wright II
U.S. District Court for the Central
District of California, 2016-2017

EDUCATION

UC Berkeley School of Law (JD, 2016)
Fellow of the Center for Law
and Technology
Elon University (BA, 2013)
magna cum laude